Joe whose real name is Joseph Abdallah is a Nigerian born creative director who was recently introduced into the BBNaija show alongside Enkay to compete for the N60m grand prize.
Blueink brings you some facts about Joe BBNaija;
1. Joe's full name is Joseph Alfred Abdallah
2. He graduated from University of Ibadan where he studied Sociology
3. He is a Visual Artist & Film Prop Designer , Model, Actor, Photo director and Illustrator
4. Joseph is the creative designer at BADHuMAN Designs And Props where they do props and set designing ,products creations and costumes .
5. Joe has been rumoured to be ex boyfriend of fellow housemate, Khafi.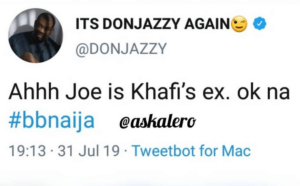 Ever since the his arrival, Joe is giving many reasons to believe that this rumour of being Khafi's Ex boyfriend is true. For one, his interactions with Khafi have been very close and personal. Recently, he had a private conversation with the UK police woman in the kitchen. The duo literally flirted with themselves while giving hints about their past involvement. Joe told Khafi that the reality show has changed her a lot. He said that she even looks prettier. Khafi, on the other hand, asked him who he was going after in the house, and in reply, Joe made it clear that he will go after her.
Watch:
Here is a video of Joe doing his work:
Related News: